Garage Floor Coating Media

Anti Graffiti Poly – New Technology
April 11, 2013, Eco-CorFlex announces the world's first graffiti cure, Hydro Poly.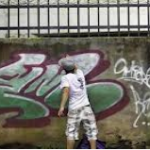 On April 25, 2013, at 10:00 am located at 2450 W. Glenrosa, on I-17 North of Indian School Road in Phoenix, AZ, Eco-CorFlex will be hosting a demonstration of its Hydro Poly to City of Phoenix officials, including the representatives of City of Phoenix Management, Council members and Members of the City of Phoenix Block Watch Advisory Committee.
The product will be demonstrated at Berkana at Adobe, which is an inner-city redevelopment project, done with no subsidies in the City of Phoenix. The area was developed and revitalized by small business owner Justin Johnson and his partners as part of their ongoing efforts to support neighborhood rehabilitation. Johnson announced his bid for Phoenix City Council and hopes that this product can be part of a long term solution to Phoenix's constant battle with Graffiti."
According to current statistics, the city pays approximately 6 million dollars a year in graffiti removal and graffiti is considered a "gateway crime" to other criminal activities. Since Hydro Poly is a one-time application process, preventing the need to continually re-paint graffitied surfaces, it could potentially reduce city expenditure by millions of dollars.
Following over a decade of research and development, Eco-CorFlex announced today the release of the worlds most advanced anti-graffiti coating to be used for government, architectural, commercial and residential applications. The product, called Eco-CorFlex Hydro Poly, literally prevents any other chemical from marring or adhering (e.g., acetone or paints), allowing clean-up to occur in seconds with our eco-friendly products. This frustrates vandals and deters future attacks. Eco-CorFlex is so confident in its product they are providing a 5 to 10-year warranty.
"Hydro Poly is truly the most advanced product on the market and the next generation of anti-graffiti coating", stated Robert Hanson, President of Eco-CorFlex and the developer of Hydro Poly. Hydro Poly is an extremely versatile product that is available in clear or a wide variety of stains to easily incorporate with existing color and design schemes enhancing the look of any surface. Hydro Poly can be applied to a multitude of surfaces including green concrete (as a curing agent), established concrete, stucco, asphalt, pavers, vinyl, wood, plastic, metal, brick and many other surfaces. When applied to protect walls, buildings, bridges, overpasses, partitions, and many more surfaces, it creates a molecularly impermeable bond" that "densifies", strengthens and waterproofs, acts as a moisture mitigation system (virtually eliminating efflorescence), and protects against harmful UV rays and extreme chemical attack. The company is firm-certified by the EPA, is ISO 9001:2008 certified, and is certified and licensed by the state of Arizona in industrial coatings.
For more information on Eco-CorFlex anti graffiti product or to get the Eco-CorFlex advantage for your establishment, please contact Dave Barker at (480) 369-6491, or toll free at 1-(866) 406-2628, or visit our website at www.eco-corflex.com.  We can solve your graffiti problem with our new anti graffiti poly which enables you to simply wash-off any graffiti.  Never have to repaint your building again.  New technology to fight the anti graffiti war.  Call us today.